New button!

There is a great deal of cultural differences discussed in this article, so before starting I'd like to introduce myself from a cultural point of view, so that it will be a reference point for the readers.

This is a random edit example…!

I am a native Russian, born in Estonia and living in Latvia. Despite spending almost all my life in the post-soviet countries, I consider myself European, although many claim that it is easier to get man out of the Soviet Union than Soviet Union out of the man. As for the Baltics, the Soviet views and way of life are slowly getting extinct here, although from time to time I feel that there is still way to go.

This summer, I decided to escape this year's incredibly rainy Baltic weather and to spend ten days exploring the sites of Ukrainian peninsula Crimea, taking the advantage of hot Crimean sun and extremely warm Black Sea. We gathere a company of three university friends – two Russians and one French – and were expecting to have excellent time together.

Our adventures began in Simferopol, the city with the population of about 300,000, which is the largest in Crimea. When strolling through its streets, one can quickly see the main attributes of each Crimean city (of course I cannot speak about the rest of the Ukraine, but still):

1) The main street is always called Lenin Street. While in the rest of the post-Soviet countries governments try to hide the Soviet heritage and give streets more neutral names, it seems that in Crimea people are at least 30 years back in time, with all these Lenin, Karl Marks, Rosa Luxembourg, Proletariat, and other street names which remind of long forgotten Socialist heroes and leaders.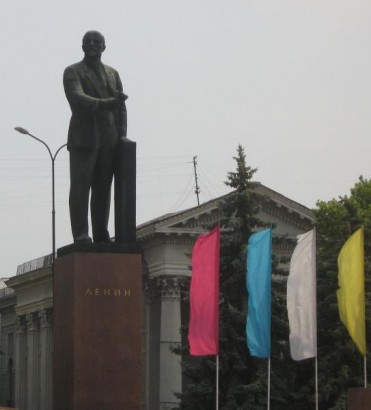 2) They say that Japanese or European cars serve ten years properly and after that they break down. Soviet cars work for forty years horribly, and they don't break down. Choose what you like, but as for Crimea, I have never seen such a number of old Zhiguli cars, as here. Once the privilege of wealthy Soviet families, now they can be seen anywhere, of course alongside Lexus and Porsche Cayenne, as the income inequality is flourishing here.

3) most of the buildings were built during the 1950's, and since that time I doubt that anyone gave them a proper refurbishment. As for small Crimean towns, later I saw that some of them look as if the bombs of the Second World War have fallen on them only yesterday, and the local have not started to rebuild the city yet. However, despite such poor conditions, locals seem to be energetic and optimistic, being ready to rent you every corner of their flat or house, and the demand is high, especially in the coastal towns which are close to the beach.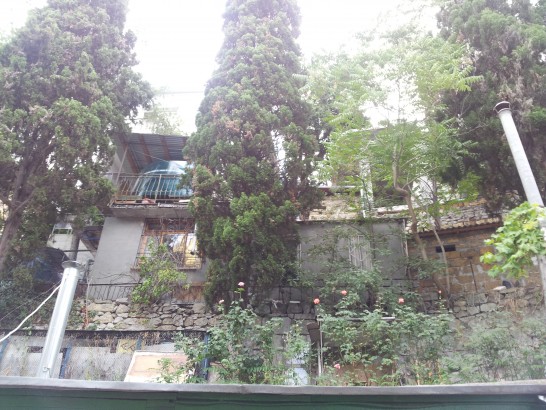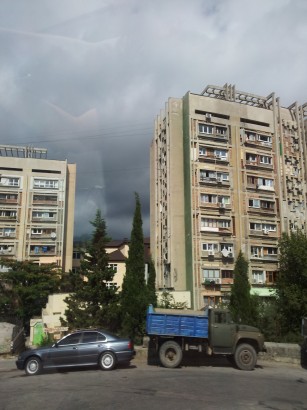 4) I am sure you can walk every Crimean city far and wide, and you will discover that 99% of the population always wear Adidas. The mysterious soul of Eastern European "gopnik" doesn't allow him wear anything else. This is difficult to explain logically, but somehow Adidas became the symbol of this social class, and even people not associated with it are also wearing this brand all the time. Even on the most popular promenade in the most popular Crimean city, Yalta, you will see several Adidas stores among luxury boutiques.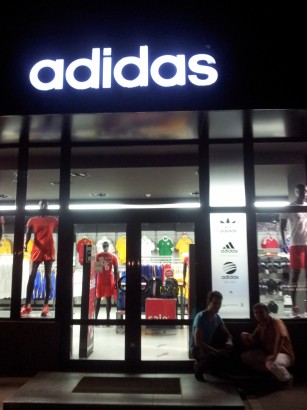 In such atmosphere, you should forget about usual Western European way of going out, which we foolishly tried during our first night. Pub crawl in Simferopol finished with the first bar, where the bartender, after giving us the wrong change (much less than supposed to) and after our indignation, just told us coldly: "well, if you didn't like it, just don't come again". And we never did. Later, when we moved to the cost, we were staying on our own balcony or on the beach during the night, drinking Crimean wine. The weather was Perfect during any time of day and night, and it was sheer pleasure to stay outside with a bottle of wine, swimming, drinking, looking at the stars. Actually, despite the great number of tourists on the cost (mainly from Russian Federation), the entertainment facilities in most of the towns are extremely simple, everything you can count on is small open-air terraces under umbrellas, with a limited range of "shashlik" or other plats de jour.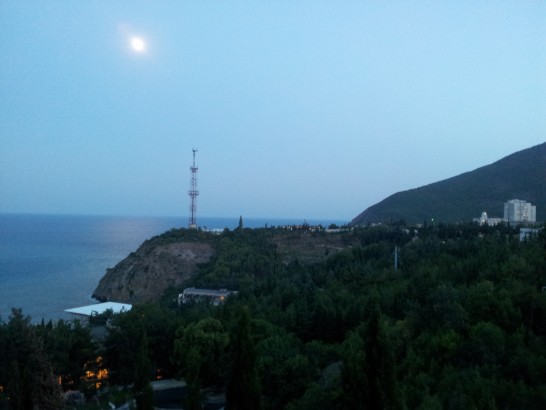 Another thing was sightseeing in Crimea. There is a big number of palaces from different time periods, natural attractions, incredibly rich heritage of Greek, Scythian, and other cultures. But there is always one major difficulty: getting there. No matter how famous the place is, but the road signs to it usually finish some 10-15 kilometers before the destination, and the road is often so bad, that these 15 kilometers can be an hour journey.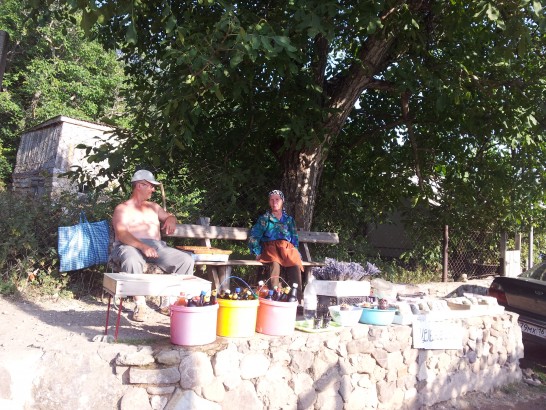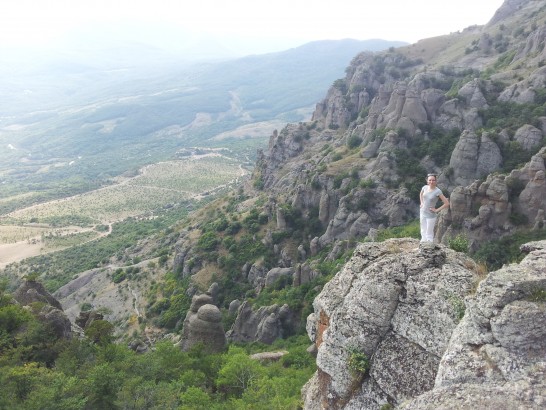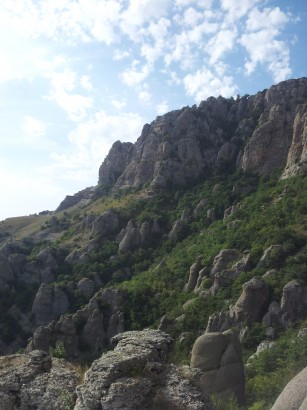 Of course we knew that corruption is flourishing here, but we could not imagine ourselves getting into the situation when we would have to bribe anyone. And yet we had a chance to realize that people are trying to get money everywhere. When being on excursion in the Marble Cave, one of the biggest and not fully explored European caves, we had a young guide who was quite nice, telling us a lot of interesting facts about the cave and making funny jokes about the shapes of some stalactites ("and this one looks like a princess hanging upside down, you see, here is her hair!"). But at one point of the way he said with the unchanged intonation: "and now I can show you a little bit of the part of the cave which is actually closed to tourists. So, if everyone agrees to give me 5 hryvnas (0.5 EUR), we will do it". Either he was fooling us and collecting money for simply showing what he had to show, or he was indeed leading us into one of the closed and protected areas – needless to say, we felt it was extremely not right in either of options. We decided not to give any money, but as the rest of the group unanimously supported the offer, we all went where the guy was leading us. The place was not much different from the rest of the cave, so I think the lad was just getting a bit of extra money for making a usual excursion.

As in many post-soviet Eastern European countries there is a great lack of trust and social capital in the society. Perhaps this is the reason why no one can enter the museum without a guide – because what if these barbarian tourists will break something or go into the restricted areas? That is why all visitors are divided into small groups and are attached to an old lady, who is usually equipped with a boring excursion text which she was telling for some 30 years unchanged, I am sure. Only once we escaped this fate of having a guide – we were talking too loudly in English and the guide, thinking all three are foreigners, let us go, treating us slightly better than the rest of the Russian-speaking group.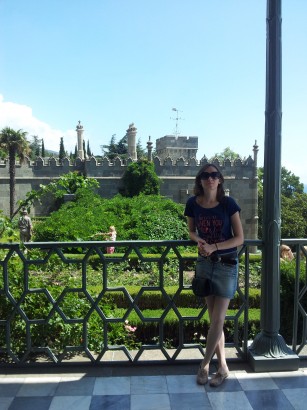 In the end, the trip turned to be a slight cultural shock not only for my French friend, but also for a Russian person like me (which is not that far from Ukrainian). Nevertheless, it was incredibly interesting to discover again the forgotten roots of one's mentality and behavior; after all, I am still Eastern European. Crimea is a stunningly beautiful place, and this article is not written to scare the readers of its people or quite poor economic situation in the country. For sure, there are some national traits that disappear with rising GDP per capita, but some of them are rooted so deeply in the national character of Eastern European post-soviet person, that even bigger income will hardly make things different. For me, a person who ended up being in between of two cultures and has an opportunity to see and compare both, this national character is a source of continuous wonder and interest.