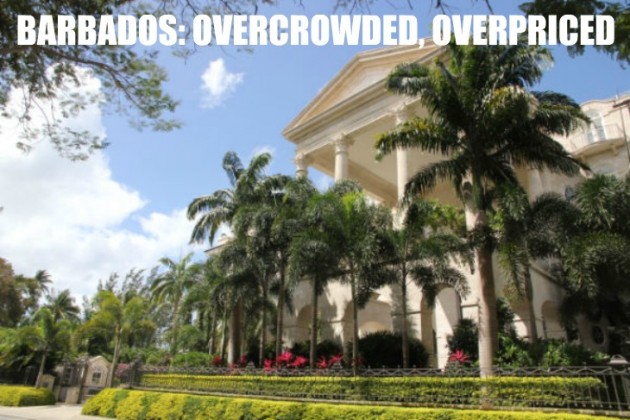 Something disturbing is happening on Barbados – the Caribbean experience is being drowned in a tsunami of greed and gravel. With tax dodgers, celebrities, footballers and bloated businessmen all flocking to the island prices have soared. Even my rich friend Lady Carol Parsons complains.
Once I used to think to myself "oh just relax and put it on the plastic, after all you are on holiday". I do mean literally once. That occasion was when a meal for 5 at the Lonestar came to £650 and I was paying. After that I was more careful. If someone said that Villa Rosa or Chin Chin were the latest places to eat, I would be sure to avoid them.
The turning point came about 10 years ago when property started to boom, and especially on the West Coast around Holetown, originally developed by the likes of the Guinness and Cunard families. This was The Place To Be. Now it is jam packed with mansions from end to end. The latest is One Sandy Lane, a sort of beachside British Museum opposite the famous Sandy Lane golf course and Barbados's answer to One Hyde Park, that Qatari monstrosity near Harrods in London.
According to local estate agent Kieran Kelly, One Sandy Lane is the sort of place where you can walk in and flick straight to CNN on the huge wall mounted TV screens in every room. Come again? I thought that the idea of a Caribbean holiday was to relax on a beach, soak up some of the colourful local atmosphere, dine in a shack, listen to Bob Marley, get legless on rum punch. Not watch the stock market and news from Afghanistan. One Sandy Lane, like the other mansions that now stretch from one end of the West Coast to the other, has blocked the last tantalising views of the turquoise waters fringed by palms that made this place so enticing. Access to the beaches, which are theoretically all public, is getting more difficult by the month as new buildings fill the gaps. At least the government blocked
plans by the Holetown fire service to sell its beachfront plot, or so it's reported, but for how long? Many of these new buildings are empty, either because they belong to fat rich bastards or because they were run up in the boom and remain largely unsold. It was out of one such unfinished development that a serial rapist operated for over a year before he was finally caught. He had assaulted and abused many women but the whole affair was hushed up to protect tourism.
Our tourist guide Richard was not saying anything about the rapes. Perhaps he genuinely did not know anything; only the Barbados Free Press reported the affair. The FCO issued a travel advisory for Holetown in 2010 following, it said, two serious daytime assaults there. As everyone knows, travel advisories are a last resort, they tend to kill tourism, so someone at the FCO knew more than they were saying officially.
The tourist board, under millionaire MP Richard Sealy, naturally wants to project the idea that Barbados is safer than houses. The board actually pays celebrities to fly here first class and frolic on the beach where they are 'accidentally' caught on camera by Grazia magazine. Many A lists celebs have bought villas here, and it's possible to rent places that belong to the rich and famous – if you have the bucks. Rents for a three bed flat at one ordinary condo development at the 'wrong' end of the road near Speightstown shoot up to $1,800 per night in high season. You will pay the same on the immaculately manicured Royal Westmoreland golf and country club, where some potato salad and piece of fish in the so-called Rum Shack costs $65. Who pays these prices? Well, I suppose you could say that Wayne Rooney does, when he is there, because he has a villa on the estate. Mostly though the Royal Westmoreland is a haven for ordinary, middle class and mostly British businessmen who have sold obscure companies for a small fortune and invested the profits here, because it is safe, if we forget the rapes.
Not that you would know you were in the Caribbean at some of these golf resorts; the food is American , the architecture is pseudo post colonial; the tree crickets are drowned by the roar of leaf blowers, hedge trimmers and lawn-mowers and the air-con ensures that warm tropical nights are a thing of the past.
As I said, a lot of this has happened in just 10 years since I first visited Barbados. Give me another island these days – the last thing I want when I go on holiday is to spend the morning in an air-conditioned shopping mall that sells Cartier watches and Versace handbags. But that is what you will be expected to do in Holetown because the new Lime Grove shopping centre, which offers all this, is the latest talking point on the island.
Meanwhile Lady Parsons is considering moving somewhere else. She remembers the time when the airport was a shed, the roads were full of potholes and you had a real sense of achievement when you finally got here. She and her late husband built a pretty red and white villa called Sara Moon on the west coast with a lawn running down to a colonial-style Bajan tea house covered with a flowering
creeper where you could watch the sun set over the Caribbean sea. In 2007 she sold it for $40million, a record price for Barbados. The buyer knocked Sara Moon down. He didn't want the house, he wanted the site. He's building an ultra modern white block which everyone calls The Hospital where he can get CNN in every room at the flick of a button.