An odd combination of events took me to Egypt's Red Sea Riviera last week. One was a desire to escape the grey skies and rain storms of an English January and spend a week in the sun which is after all guaranteed in Egypt, is it not? The second was to find out why the recently formed Dire Straits Experience was kicking off their world tour in of all places – Hurghada.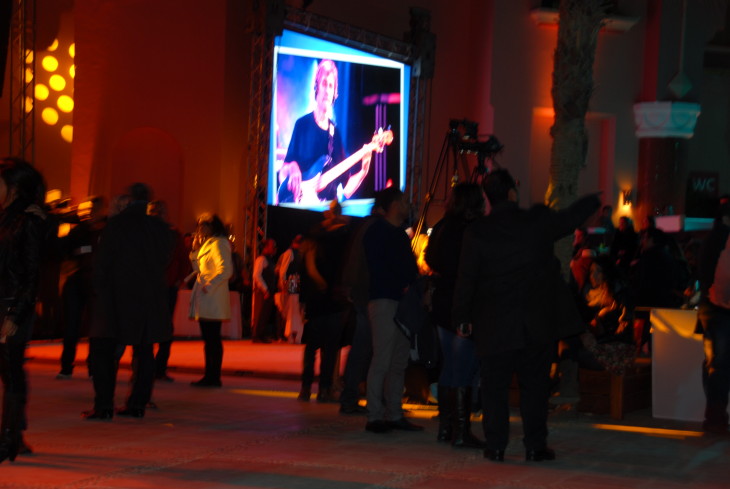 Hearing of this, I'd no sooner booked a week at a resort hotel outside the town, than the English papers were full of an apparent terrorist attack nearby. So it was not without some concern that I boarded a Thomas Cook flight, there being no chance of getting refund on the basis that I was 'unwilling to travel'.
It was an odd start to a relaxing holiday in the sun but it seemed the Dire Straits gig was going ahead and indeed by good chance, the re-formed band including the only original Dire Straits member, saxophinist Chris White, were aboard my flight.
Having decided I would try and blag a press pass for the show, it was doubly fortunate that that I fell in with an English couple, Max and Helen Faulkener, who had actually sat next to Chris White on the flight.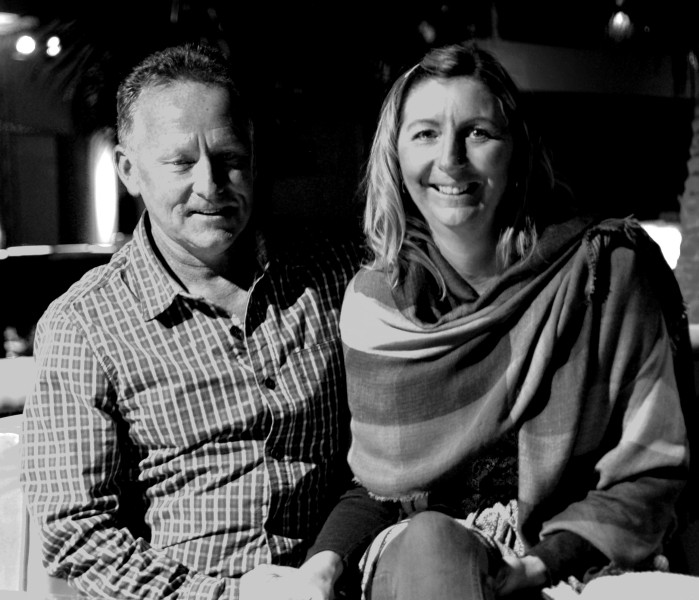 None of us had tickets, so the night before the gig we headed to Soma Bay, the venue, with a local Egyptian driver George to track down White et al. Max , who runs a bike shop in Bude Cornwall, is a bit technical about cars and stuff and seemed a little surprised that the lights on our quite expensive taxi (£25 return for a 20 minute ride. In Egypt ) were not quite working and the wheel bearings (whatever they are) were also a bit dodgy. George had apparently learned to drive the day before and Max kindly assisted with the lights and general advice on avoiding on-coming traffic, so by the time we arrived at the Kempinski Soma Bay we were in need of strong alcohol. I stood a round of drinks (£25 or so. In Egypt) and went to hunt down the marketing team brandishing my NUJ card.
Have I forgotten to mention the temperature? It was well nigh freezing due to a savage desert wind that was raking the seashore. Fortunately I had clothes packed for the return trip to Gatwick but they hardly matched up to the designer ski gear sported by most of the better advised tourists in the hotel.
We made our way to the marina, where the gig was being staged, and here found Tigger, the excellent lighting engineer who had also been aboard the flight, who reckoned he could squeeze us in and would put in a word for us. And he did. In fact by the time we rocked up the next evening – George once again at the unsteady wheel – half of the organizers seemed to know about the journalist from the UK and her mates.
I'd been wondering how tight the security for the gig, sponsored by Coca Cola among others, would be.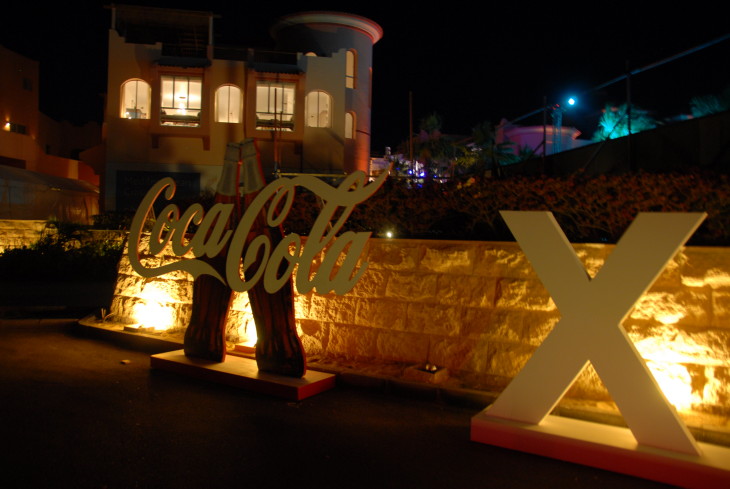 By Egyptian standards, I guess it was around Amber. At the perimeter gate, there were dogs and indeed two Army cars, not to mention an impressive automated iron barricade that rose from the ground. ( Our hotel had a sleepy porter, flimsy gate on wheels and no dogs. 'Too expensive' said George. )
We had to leave the car and driver and grab golf buggies to the main entrance, pass through scanners and have our bags searched by Egyptian security guards the size of houses.
Miraculously, a PR lady appeared with Access All Areas wristbands. We did not attempt to storm the VIP lounges with their white leather sofas and patio heaters but commandeered a stray white sofa near the stage to await our Dire Straits Experience. Waiters bearing trays of tiny canapés began to circulate, presumably they'd been told to serve the White Sofas, so we were fed.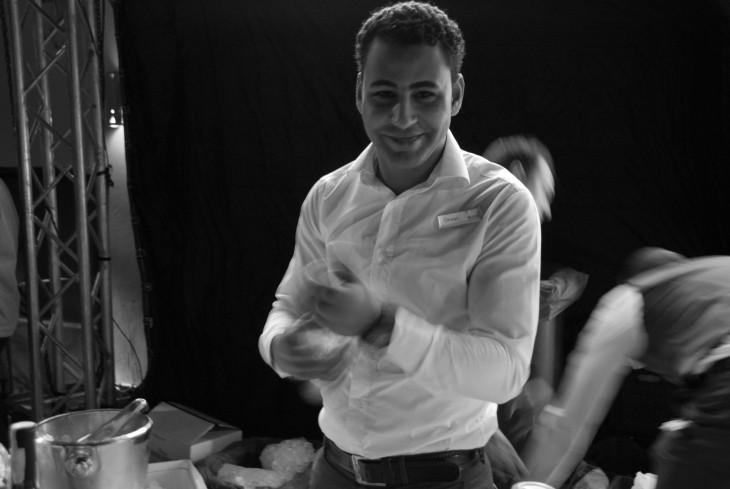 It was surreally unlike any gig I have ever been to. Eventually the VIP lounges began to fill, the patio heaters were lit (have I mentioned the cold) and the DJ began to crank up the bass tones. The show was about to begin. We'd made it and had a clear view of the stage. At this point the entire Cairo Chapter, Harley Davidson, arrived and took up their places directly in front of us blocking the view as the penetrating opening chords of Romeo and Juliet swept us back to 1985. For some reason Max, who had been quite useful and manly up to now, refused to tell them to bugger off.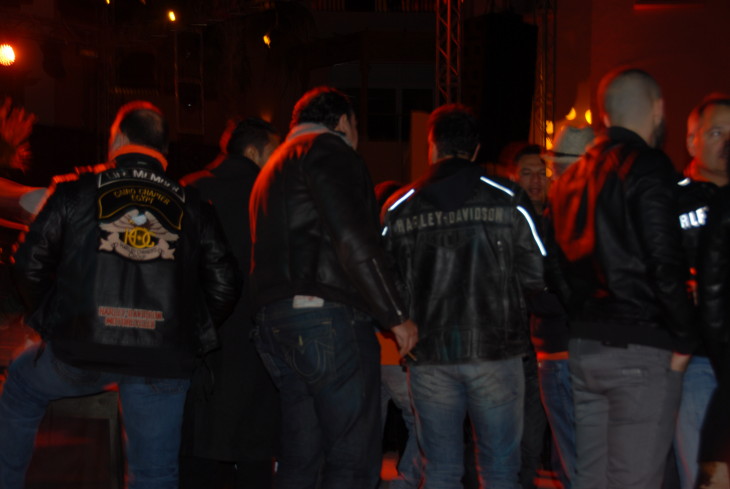 It was great gig. The largely Egyptian crowd stood politely, hardly moving, hardly knowing a song, hardly drinking. Max and Helen danced like mad things on the White Sofa, a godsend to the cameramen covering it.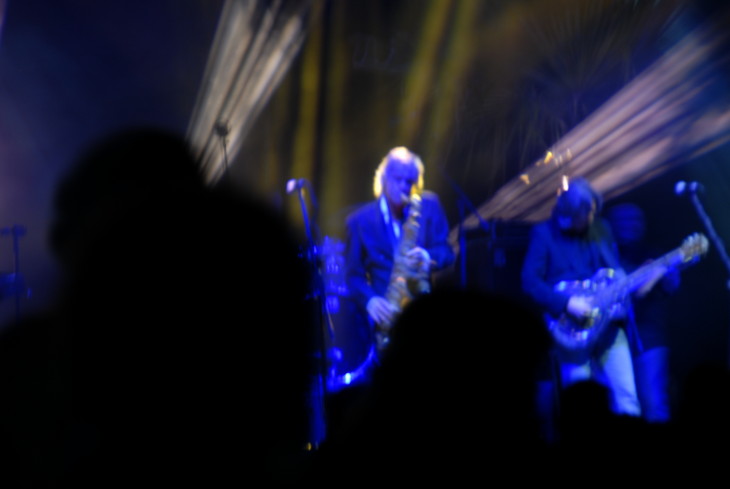 Chris White was superb. DittoTerence Reis, whose ability to replicate the voice and style of Mark Knopfler has been key to the venture. (Chris calls him the 'only person on the planet who is able to play and sing like Mark'.) It's off to Liverpool for Dire Straits Experience next week and for sure there won't be any canapes. And it will be warmer than Egypt.
INFORMATION: direstraitsexperience.com