"The only brown kid in town," artist Jon Reinert was adopted from the Philippines at the age of three. Brought to the U.S., he spent his young life in a small, predominately white town in Missouri. Throughout this experience, the artist always felt a longing for his roots.
Today, in a small Los Angeles apartment, a massive expanse of cardboard — Reinert's favorite medium — covers his wall. His art was inspired by his soul-searching trip to the Philippines. He decided to take a trip, to the city of his birth, the year after he graduated from DePaul University in Chicago. However, once the artist reached the Philippines, "all he saw was trash." Expecting an awe-inspiring transformation of self, he was shocked by the amount of trash covering his country.
"It was a visceral moment," Reinert said. "Here I was chasing my identity and all I found was garbage."
He witnessed houses built up from trash and driftwood. "Innovation found poverty," as Reinert said. Waste took on a new form.
Upon returning home, Jon obtained a position at a local Starbucks. Here, the recent grad was disturbed by the amount of trash being tossed on a daily basis, "We would stock the shelves and we would always toss all these gorgeous cardboard boxes in the alleyway. So, I got to a point where I just filled my car up with them," he said. From there, Reinert made his first piece: a square, cardboard lamp.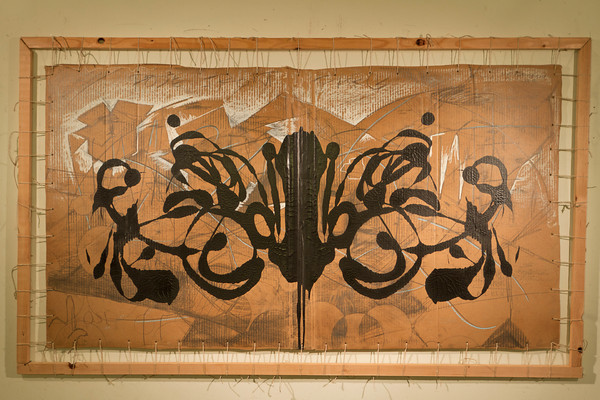 What strikes viewers are how much of his journey from the Philippines to Missouri, back to the Philippines, and to your local Starbucks, really breathes life into his art. The companion to a piece titled, "The Ram" ("The Ram"  which he also calls "Cock and Balls") was created out of frustration. Reinert had placed paint on the cardboard and wanted something beautiful to ooze from the black design. However, as he would lift up the folded cardboard, he would always be unhappy with the result. Frustrated, Reinert began to massage the folded cardboard.
"The paint was within the two layers of this massive piece of cardboard and here I was, massaging the piece, hoping to breathe life into it." Low and behold, as he peeled back the layer, Jon found that something magical had happened; the paint had small grooves running through it, forming what looked to be "small capillaries or veins." Life was literally running through his piece. Breathing and pawing for attention.