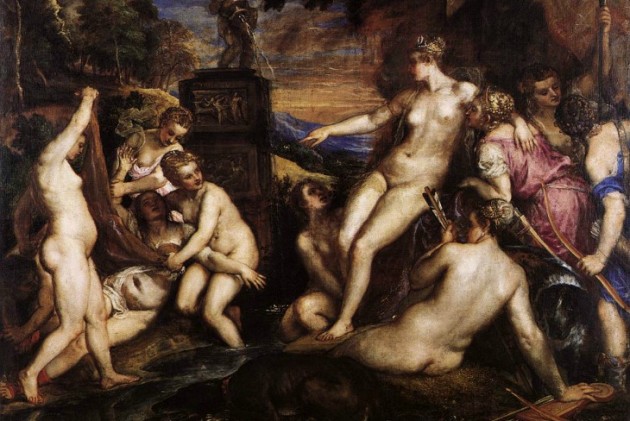 There's not a lot more you could ask for from a high-end cultural experience than witnessing the work of leading artists, choreographers, ballet-dancers and composers- all rolled into one. This Summer, in the lead up to the Olympics, the Royal Opera House will have just that.
Between the 14th and the 20th of July this year, the Royal Opera House will play host to one of the most exciting cultural collaborations in the Olympic Events lineup. In conjunction with the National Gallery they have been working to produce Titian 2012, a performance that will celebrate the renaissance master in a joint pursuit of showcasing the best of contemporary British talent. There are three works that are the backbone of inspiration for the project; Diana and Actaeon, The Death of Actaeon and Diana and Callisto. All three were produced in response to Ovid's Metamorphoses.
Prince Philip ll of Spain commissioned Titian to produce the Metamorphoses-inspired paintings in the late seventeenth century and they have since travelled the world through several prominent collections, both royal and institutional. Ovid's classic text is a mock-epic featuring numerous tales in which mythology, morality and mortality are all central themes; the stories highlight the fluid nature of existence. It is poignant that at a time when social and moral fabrics are being questioned, a global event like the Olympics is being honoured by an artistic collaboration that will revisit the stories and ideas that so long ago, were the scaffolding for concepts of both society and the individual. It will be fascinating to see the contemporary interpretation.
Artists, ballet-dancers, choreographers and composers, all of whom are leaders in their fields, have been working together in this unique collaboration. Three visual artists: Conrad Shawcross, Chris Ofili and Mark Wallinger are currently designing what will become the setting for the performance, while specially commissioned scores have been written to provide the music. The entire company of the Royal Ballet, including over 100 dancers, will be involved in the production.
It is the first time these two historical institutions have worked together on something of this magnitude. The performances will be on the 14th, 16th, 17th and 20th of July with the one on the 16th being simultaneously relayed onto a giant screens in Trafalgar Square, Edinburgh, Liverpool and other city centres. Drawing on the best of British artistic talent, Titian 2012 is definitely one to put in the diary.
For tickets to the Royal Opera House performance visit:
http://www.roh.org.uk/whatson/production.aspx?pid=18561
There will also be an exhibition of how the artists developed and implemented their ideas, along with Metamorphoses-inspired poetry from the likes of poet Laureate Carol Ann Duffy. The exhibition will run from the 11th to the 21st July at the National Gallery.