THERE was not much left of Santorini, the Greek Cycladic island, after its volcano erupted circa 2,000 BC blowing a massive hole in the centre and leaving only a dramatic rim of cliffs that fall down to the deep blue. Coated with an icing of white buildings, these are probably some of the most familiar views in the world thanks to the millions of photographs which are taken by every visitor and endless selfies.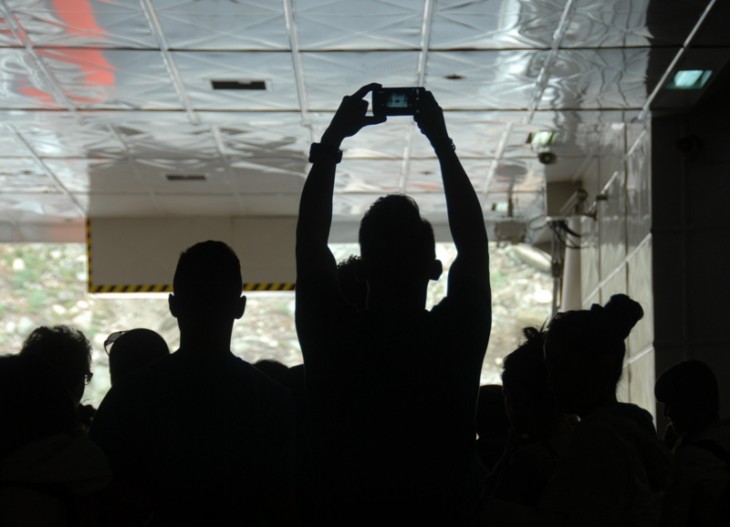 And among these, the ones who are most obsessed by the selfie in Santorini are the Chinese who are flocking here in unprecedented numbers.
"The Chinese have a lot of wedding competitions and if you win, the prize is often a trip to Santorini," says Haris, my guide for the day.
He's happy for the upturn in business too since he sells properties and with the Greek economy reeling on the verge of the Grexit ( leaving the Euro) it's hard to persuade Europeans that it is safe to invest in Greece when their euros may become devalued drachmas.
The Chinese don't care so much about the Grexit because they are not investing for capital gain or even rental returns; all they want is a Residency Permit which, thanks to a new law passed in 2013, can be acquired by spending around £200,000 on a property. The permit gives them free movement across to all the Schengen treaty countries of Europe.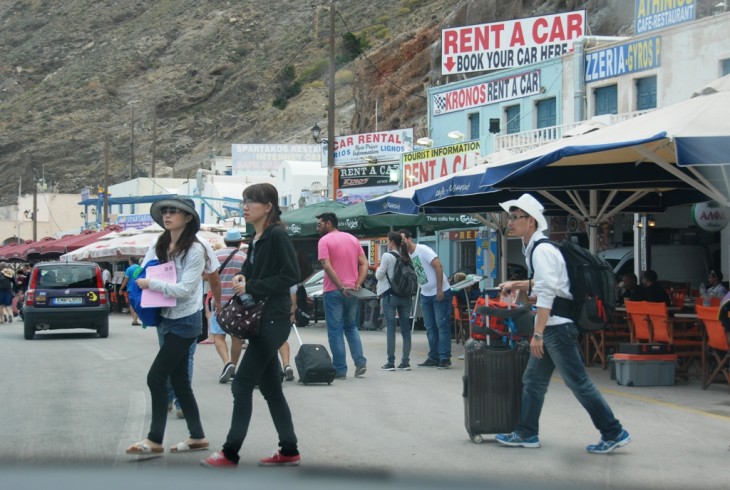 They also like Santorini just because it seems to be on the Asian 'bucket list' and so unquestioningly, they must travel to this destination whether they really want to or not. As a result not only has the island defied the Greek downturn but you are in danger at every corner of its narrow alleyways and winding streets of having your eye poked out by someone brandishing a selfie stick.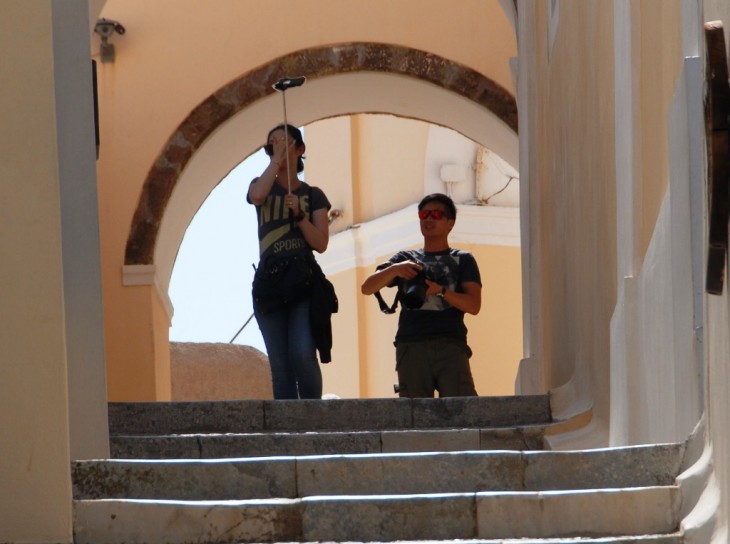 I wonder when they (selfies, not Asians) will be banned on Santorini as they have by several European museums and galleries. I wonder too what will happen to all this photography, guessing it will vanish into The Cloud at some point and then be vaped in a cyber attack led by North Korean terrorists.
It's great though to be on a Greek island where people are cheerful because in Crete, where I came from, this is far from the case. Having done the tourist thing on Santorini, wine museum, lunch, coffee in Fira, selfie (just kidding) it was impossible not to notice the stark contrast; shops overflowing with designer goods and gold stuff; smart restaurants; English people with posh yah yah mid-Atlantic voices; designer clothes; designer rooms with spas that cost Euros 1,000 a night; things that you might mock in other circumstances.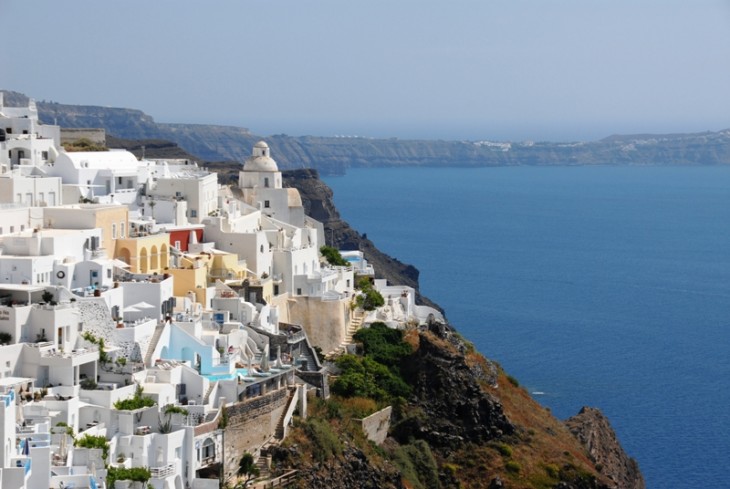 It seems a little unfair to Crete that Santorini is not only laughing in its face economically but that this is the second time it has dealt a blow to its neighbour as the early Cretan civilization of the Minoans was wiped out by that same volcanic eruption circa 2,000 BC. But it was a long time ago to be fair.
On Crete things are very different. Returning on the last ferry at 5.30 and with a rather insecure understanding of the bus connection from Heraklion's port to Chania, I experienced some of the despondency which is gripping this nation in existential crisis. The bus, dirty, late and crowded, made slow progress and then, inexplicably, stopped altogether and the driver descended. There was a chorus of protests from passengers. Finally reaching Chania, I made for a taxi rank where dozens of cabs were lined up. It was midnight, I was exhausted and the drivers all looked like Vogons. One, begrudging, accepted my fare. As soon as we started out he turned the radio up full blast. It really was the Hitchhiker's Guide – I was going to have to listen to Vogon poetry!
Only it was Alexis Tsirpas talking on and on about the loan repayment; which comes to much the same thing as Vogon poetry. I know enough Greek to gather that things had not gone according to plan and that he, and lots of other people, were very, very angry. There was a lot of shouting going on.
The following day I found a nail bar and asked the lady what Tripras had said the day before. "I do not listen to the news," she said. "I have not for three years." Then, she added: "I blame, what do you call them, the people who write the news…..?"
"Journalists," I said.
"Yes, I blame the journalists for telling everyone not to come to Greece, it is not safe. I would like to kill all of the journalists."
How was she to know? I would have liked to tell her that I was here to report how absolutely, fabulously, beautiful Crete is, particularly at this time of the year and most of all if you drive into the vast unspoiled interior. Crete, despite its problems, has so much more to offer than Santorini, which seems to have become a victim of its own success. Forget the Greek debt mountain and just enjoy the spectacular Greek mountains.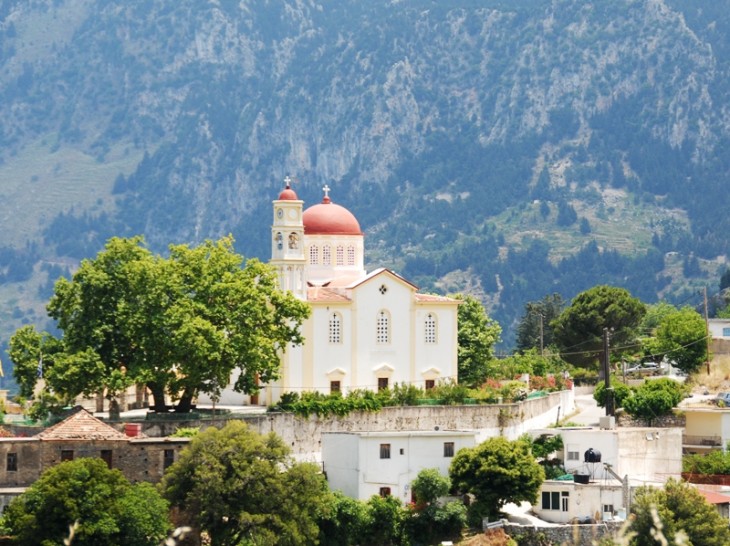 PHOTOS: Andrea Watson